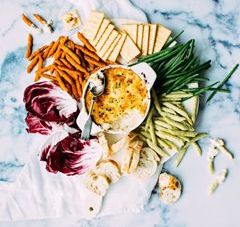 If you're looking for a delicious and comforting new snack dip for the holidays, then this is going to be The BEST (and easiest) comfort dip you'll make. Whether it's just for yourself, your family or friends coming over for a holiday event, everyone will be talking about this dish during and long after your get together!
This is a show-stopper, and with Calypso's Cuban Black Beans and Famous Callaloo Greens, it could not be simpler. Buy a pint of each and you'll have some left over for another meal!
Ingredients:
1 sweet onion, diced
1 red bell pepper, diced
1 (1-lb.) package hot ground pork sausage
2 garlic cloves, minced
1 teaspoon chopped fresh thyme
1/2 cup dry white wine
1 (8-oz.) package cream cheese, softened
1 ½ cup Calypso Callaloo, or cooked greens of your choice
1 ½ cup Calypso Cuban Black beans, or cooked beans of your choice
1/2 cup shredded Parmesan cheese
Green onion garnish, optional
Instructions:
Brown sausage with onion and pepper in a large skillet. Add Thyme and wine and cook until most of liquid evaporates. Add cream cheese and cook until melted. Add Callaloo and Black Beans and pour into 2-quart casserole. Sprinkle with Parmesan cheese. Bake until golden brown (about 18 minutes) in preheated 375-degree oven. Serve as a side or as dip with pretzel rods, crackers, veggies, corn chips. You can also make it a MEAL: top baked potatoes or a hearty green salad.
ENJOY! And, of course, send us feedback, comments, and suggestions! Or, share a picture of your final dish on our social media page and let others see how it turned out!