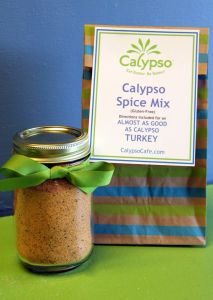 Dear Loyal Calypso Customers,
We will make certain you get a delicious, Calypso-spiced turkey this holiday season!
Since the beginning, (close to 30 years ago), we've roasted turkeys for the holidays. We were delighted to see the same names appeared on the order sheet, year after year. We've received   countless inquiries for the 2016 holiday season.
Each year it was a struggle to find a supplier who could provide the quantity we needed that met our size and quality specifications. This year, our last hope could not deliver.  We are disappointed. We treasure the many YEARS of being part of your holiday traditions.
Don't despair, though.
Pint Jars (gift-ready) of our spice mix (now gluten free) will be available COMPLETE WITH DETAILED INSTRUCTIONS for roasting your own turkey that will be ALMOST as good as our Rotisserie Turkeys.
$9.95 per Jar
(plenty for a heavily spiced Turkey)
We will also offer some seasonal surprise menu items over the holidays.
Contact us at catering@calypsocafe.com and we'll ensure availability at your favorite Calypso location.